Aiming to increase security in updating equipment files remotely, MKController has the function of Sending files on Mikrotik. Offering an option to update files from anywhere in the world.
Steps to upload files
1 – To send files on Mikrotik, access your account at https://app.mkcontroller.com Afterwards, look for the Devices menu (as shown in the 1st indication in the image below).
2 – The next step is to click on the "View more" button of the Mikrotik that intends to upload the files (according to the 2nd indication in the figure below).


3 – In the menu, click on the "File system" option.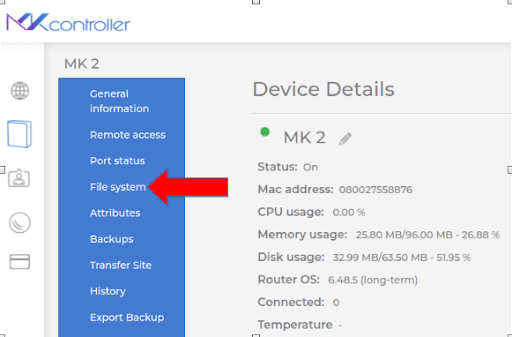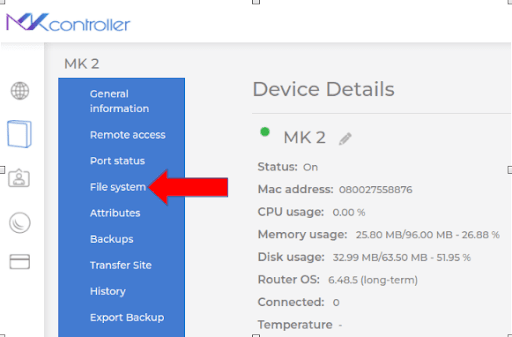 Highlighted in green in the figure below, the MKController platform shows the files and folders that are recorded in the root "/" of the selected Mikrotik.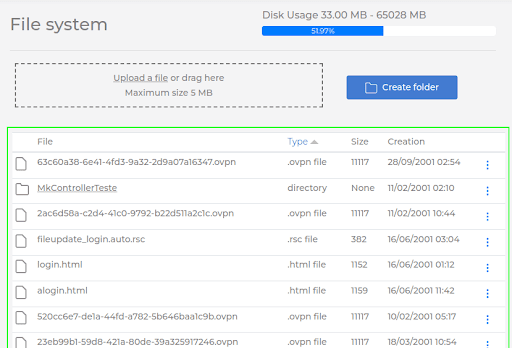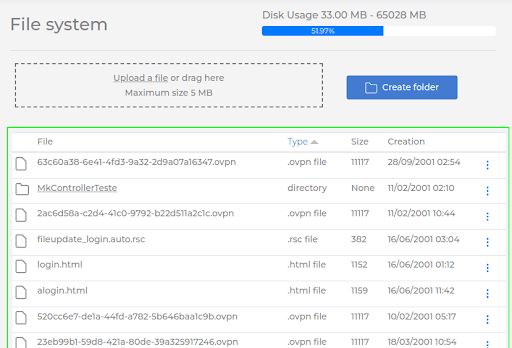 4 – Click on the option "Upload a file", after selecting the desired file in the window that will open, and soon it will be saved in the root "/" of the Mikrotik device.

Creating directory on Mikrotik remotely
1 – To create a directory at the root "/" of the Mikrotik remotely, click on the button "Create folder".


2 – Enter a name for the directory, then click on the "Ok" button to save.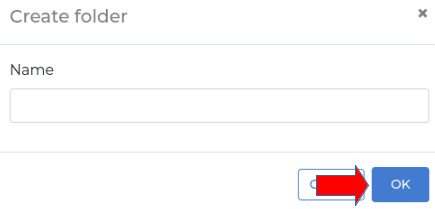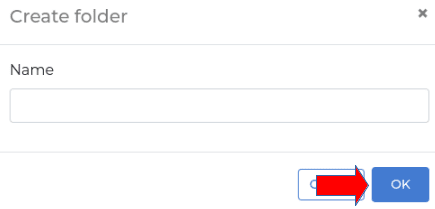 Other options
Opening a directory
1 – To view files inside a folder, click on the three dots symbol (highlighted in red in the figure).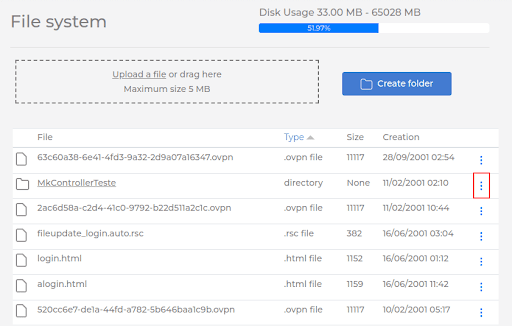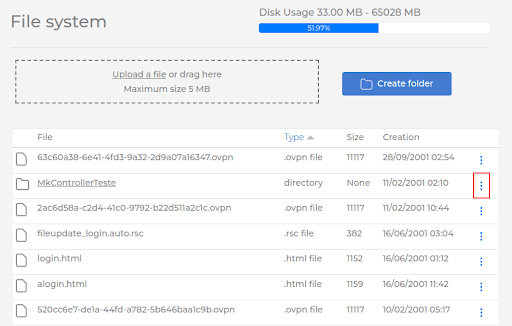 2 – The options presented for the folders are: open, rename and delete. For this scenario we select "Open".
3 – The platform will show the files in the selected folder, to go back just click on "root".


Options for files
By clicking on the three dots symbol on the file, you will be able to perform the actions of: rename, delete and download.


In this documentation information was presented to send files to the root "/" of the Mikrotik, create folders and action options that you can perform remotely and safely.
Didn't find the information you were looking for? Do you have other questions? Do you want to help us improve the material? Do not hesitate to contact and send help from MKController! Click here for any question. If you have not adopted your Mikrotik device in MKController, simply click here to follow the documentation.
---