Do you use the MKController platform and have questions about how to delete devices? In this tutorial we will show you quickly and safely how to delete devices in MKController. Check out the step-by-step process below:
Steps to Delete Devices in MKController
1 – The first step to start this process of deleting a device on the MKController platform is to access your MKController account. Afterwards, search for the Devices menu (as indicated in the image below);
2 – Then, select the device you want to exclude from your website (as per the 2nd indication);
3 – The next step is to click on the "Add device" button, translated as "Add device (according to the 3rd indication in the figure below).


4 – On the current screen, choose the "Forget device" option, translated as "Forget device", (according to the representation in the image below).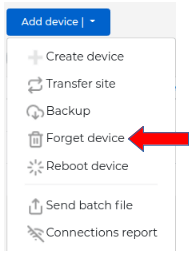 5 – After confirming the device to be deleted from the list, click on the "Forget" button, translated as "Esquecer" (according to the image).

6 – Then, the pop-up will appear at the top of the screen to confirm the operation, click on the "Confirm" button (translated as "Confirm") so that the system can permanently delete the device in MKController. Indicative image below.


7 – Return to the Device home menu to verify that the Mikrotik equipment information has been deleted (forgotten) from your site according to the initial objective. As shown on the screen below.

After following all these steps, the process of deleting devices in MKController is finished.
Didn't find the information you were looking for? Do you have other questions? Do you want to help us improve the material? Do not hesitate to contact and send help from MKController! Click here for any question. If you have not adopted your Mikrotik device in MKController, simply click here to follow the documentation.
---