In this article, we will present the step-by-step process to quickly and securely access the VPN with the devices used in MKController through the integration available for the MKController application for Windows.
Installing MKController application on Windows
The first point to be considered is that to run the MkController application your computer or notebook must have the Java JRE program installed. If you still don't have this tool installed on your computer, download it from https://www.java.com/en/ and run the installation, as recommended by the program.
Next, you will need to login to https://app.mkcontroller.com.
Click on the Winbox button (according to the 1st indication in the image below) and then click on the option for Windows (according to the 2nd indication in the image below).


Unzip the "MKController.exe.zip" file and then click on the "MkController.exe" file (as shown in the image below).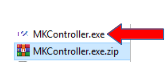 In the field highlighted in red in the figure below, enter your email and password registered on the MKController platform and click on "Access" (translated as access) to connect to your account. Do not forget: passwords, in any system, are restricted and non-transferable information, be careful and careful with them.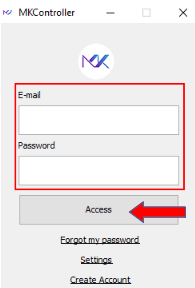 In this material we will adopt as an example the access to the MK2 device. To do this, continue with the process by selecting the device under "Device", translated as device (1st indication in the image below) and then clicking on the "Connect" button, translated as connecting (2nd indication in the image below).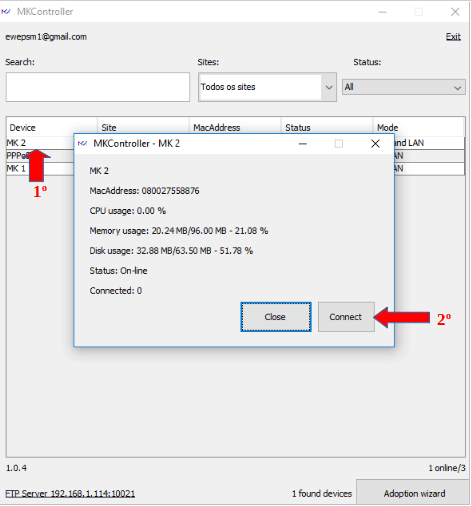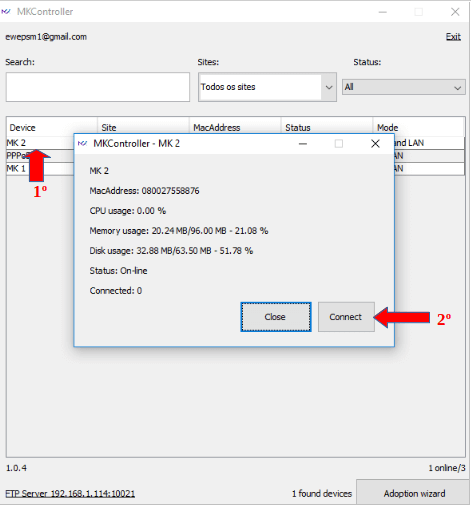 Then the system itself will open Winbox and make a secure connection to the Mikrotik equipment via VPN.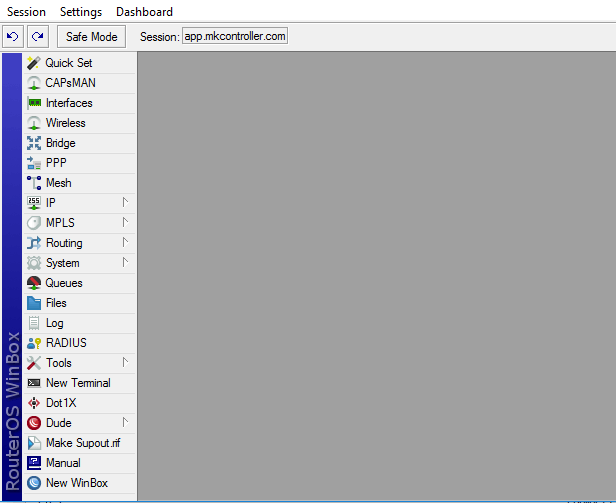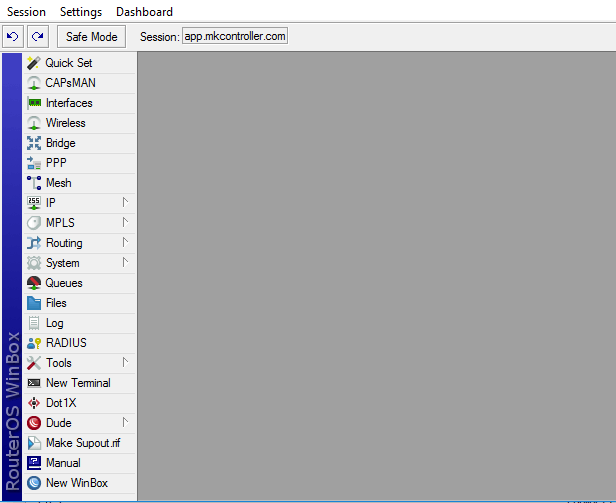 This completes the process for connecting, via VPN, an MKController device through the integration available for Windows.
Didn't find the information you were looking for? Do you have other questions? Do you want to help us improve the material? Do not hesitate to contact and send help from MKController! Click here for any question. If you have not adopted your Mikrotik device in MKController, simply click here to follow the documentation.